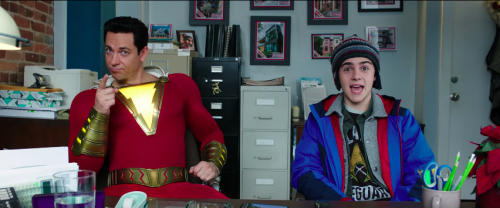 "Every kid dreams about being a superhero," says "SHAZAM!" director David F. Sandberg. "In the world of our story, where Superman and Batman exist, Billy Batson is a kid who basically gets that wish." But for Billy, there's a twist—he doesn't just get the superpowers, he becomes an adult—on the outside, at least—with a power-laden name: SHAZAM stands for Solomon, Hercules, Atlas, Zeus, Achilles, and Mercury.
Inside, the Super Hero Shazam starts out as a cynical foster kid struggling to find his place in the world, who knows nothing about such heroes, let alone how to be one. It's a unique aspect of the character, Sandberg allows, adding another: "His power comes from magic. He's just a kid, but because he's pure of heart and strong in spirit, he's the chosen one. He's the champion. That was really interesting to me."
Star Zachary Levi says it's the combination of all aspects of the story that he found so compelling. "Yes, it's about Billy Batson becoming Earth's mightiest mortal and defender just in time to meet some serious supernatural evil that he needs to learn how to defend against, but really it's a great coming of age story within a family story within an action story."
For Levi, starring in "SHAZAM!"—a movie about wish fulfillment—is truly life imitating art…or possibly the other way around. It's hard to say whose dreams are really coming true, Shazam's or his own. "More often than not, you've got a character who is begrudgingly pulled into the superhero thing, and they have these powers and everybody needs them and they're thinking, 'Oh great, I have to save the world again?'" Levi explains. "But Billy Batson is stoked, making Shazam one of the few superhero characters in all the comic universes that's genuinely thrilled to be a superhero. I knew that would make my job as an actor infinitely easier, because I wouldn't have to hide any of my excitement to be bringing Shazam to life."
"SHAZAM!" marks producer Peter Safran's second foray into the superhero genre, after last year's enormously successful "Aquaman." While he acknowledges there are similarities in that both characters struggle to find their place in their respective worlds, Safran says, "Each of the DC properties can—and should—have a different tone. They all live in different worlds, and for Shazam we loved the idea of combining the big action movie with all the wonderful comedic character elements. What I've personally always loved about 'SHAZAM!' is the wish fulfillment element, the idea that anybody can become a superhero. Your dad doesn't have to be a billionaire, you don't have to come from the planet Krypton. So that, combined with the family story that was always intrinsic to the Billy Batson/Shazam storyline, were the things that really drew me to this project."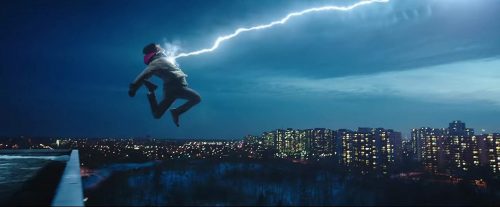 In addition to Levi, the filmmakers cast an engaging group of actors—adults and kids—to fill the major roles, from esteemed veterans like Mark Strong as Super-Villain Dr. Thaddeus and Djimon Hounsou as the magic-gifting Wizard, to familiar faces Asher Angel as Billy Batson and Jack Dylan Grazer as Freddy Freeman, along with Faithe Herman, Grace Fulton, Ian Chen and Jovan Armand filling out the roster of fosters.
In Philippine cinemas April 3, "Shazam!" is a New Line Cinema production, and distributed by Warner Bros., a WarnerMedia Company. Use the hashtag #SHAZAM