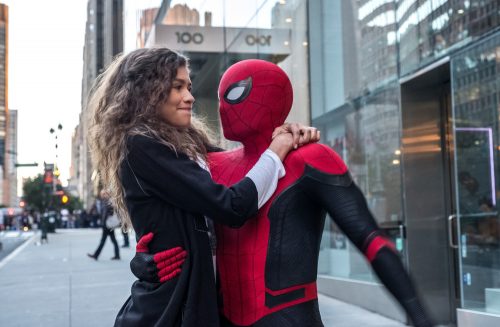 In Columbia Pictures' new action adventure Spider-Man: Far From Home, Peter Parker's (Tom Holland fateful decision to embark on an exciting vacation with his friends from school is, initially, all about having fun and adventure in locations far from their homes in Queens.
It's also about some of them – Peter, MJ and Ned – coming to terms with having been snapped out of existence for five years, while other classmates remained and grew older. It's fertile territory for bonding, romance, surprises, and way-too-close encounters with inter-dimensional creatures.
Watch the film's new TV Spot here.
Zendaya returns as MJ, Peter's whip-smart classmate, friend and, now, possible love interest. In addition, she figures out a major piece of the Peter Parker puzzle – that he's Spider-Man – further complicating a new romance that's not going as smoothly as Peter would like.
Zendaya, who graduated from her work in the popular sitcom Shake It Up to starring roles in Spider-Man: Homecoming, in which she first played MJ, and the blockbuster musical The Greatest Showman, says it came as no surprise to her that MJ figures out Peter's secret. "She watches everything and knows everything, so it's inevitable MJ comes to that conclusion," Zendaya explains. "And it helps that Spider-Man is now showing up all over Europe, where they happen to be on vacation."
The actress also embraced MJ's vulnerability, noting that, "We get to know her better in this film and how she responds to situations that make MJ a little more vulnerable." Zendaya similarly appreciated MJ's quirkiness and the fact that "Peter likes her for exactly who she is, including all the little weird things that make her MJ. I think it proves that if you're meant to be with someone, well, you're meant to be with them!"
But does MJ love Peter as Peter – or as Spider-Man? "It's a little bit of a tragedy for Peter, who's hoping that MJ likes him as Peter, but suspects that she's really into Spider-Man," director Jon Watts suggests.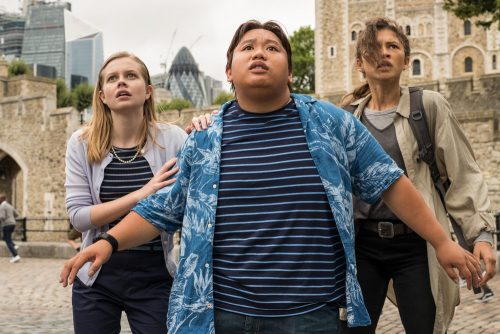 Love is also in the air for Peter's best friend Ned, once again played by Jacob Batalon. Ned is falling for classmate Betty Brant, played by Angourie Rice. "That romance has also triggered an evolution in the friendship between Ned and Peter," says Batalon. "In Spider-Man: Homecoming, Ned was Peter's sidekick. This time, he's found love and sees what that's all about. He's really happy to make an instant connection with Betty."
All the young actors bring their roles to life in unique ways, but Watts notes that the characters share some important qualities: "They're all really resilient and dealing with what had happened to them in those five years. But at the same time, they also have their eyes on the future and are ready to move on."
In Philippine cinemas July 3, Spider-Man: Far From Home is distributed by Columbia Pictures, local office of Sony Pictures Releasing International. Use the hashtag #SpiderManFarFromHome