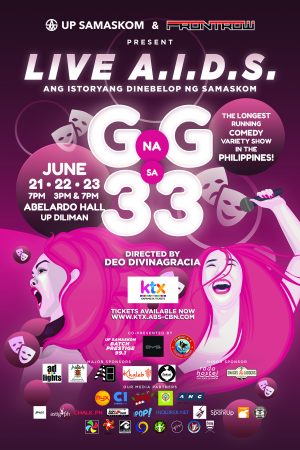 The UP SAMAHAN NG MGA MAG-AARAL SA KOMUNIKASYON is a university-wide organization based in the College of Mass Communication of the University of the Philippines, Diliman. It is home to media personalities and industry heads Laurenti Dyogi, Tuesday Vargas, Kuya Kim Atienza, Tina Panganiban Perez, Lei Alviz, Giselle Sanchez, Ate Glow, Raul Castro, Peter Acuna, RS Francisco, and KaladKaren Davila among many others who first honed their showmanship and comedic skills in the LONGEST RUNNING COMEDY SHOW IN THE COUNTRY- LIVE A.I.D.S.
Live A.I.D.S. is a venue for UP SAMASKOM members to enhance their wit, creativity and leadership potentials. It is a playground for members to get invaluable orientation in the different fields of media. It is home to talented and diverse individuals from all walks of the university who have a passion for creativity and self-expression.
Live AIDS (Ang Istoryang Dinebelop ng SAMASKOM) or Acts, Improvisations, Dances and Songs, is an annual musical-comedy series mounted by UP SAMASKOM. It is the longest running comedy show in the county. What started as a mere applicants' batch project back in 1983 is now one of the most awaited events in the Diliman Republic. Each year, Live AIDS has never failed to surpass the previous record number of fans who troop to its staging venues on all performances.
The 33rd installment of one of the most anticipated events in UP Diliman is a commentary on the Philippine society and the experiences and travails that we face on the daily featuring trending topics and viral content. Promising to make audiences laugh like never before, LIVE AIDS 33: G na G sa 33 is an event not to be missed.