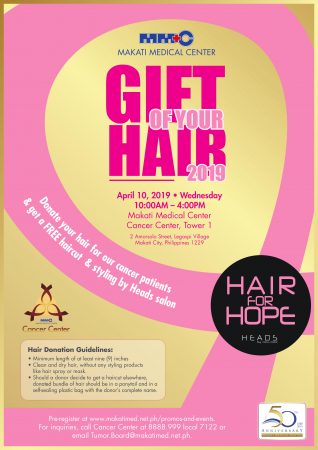 Beat the summer heat with a new haircut through Makati Medical Center's "Gift of Your Hair 2019" hair donation drive. Get a free haircut for a cause by donating your hair on April 10 from 10:00 AM to 4:00 PM at the Cancer Center, 1st Floor Tower 1.
MakatiMed teamed up with HEADS by Volu-Med salon, which provides solutions for hair problems by integrating hair services with quality hair systems and wigs, for the annual donation drive. Hair experts from HEADS will provide free haircut and styling to those who will donate to MakatiMed.
The donated hair should at least be nine (9) inches long. Any hair type, including gray and white hair, will be accepted. Donors who choose to get a haircut elsewhere will still able to donate by sending the bundled hair to MakatiMed Cancer Center.
Donations will be carefully made into wigs that MakatiMed cancer patients can use. This is the fourth consecutive year that the MakatiMed Cancer Center organized the annual hair donation drive.
For inquiries and registration, please call the MakatiMed Cancer Center at 8888 999 local 7122. You can also email Tumor.Board@makatimed.net.ph,