In New Line Cinema's action-adventure "SHAZAM!," five additional kids including lovable geek Freddy (Jack Dylan Grazer) fill up the group home where Billy Batson (Asher Angel) comes to live.
Mary Bromfield, the eldest of the foster children who, when we meet her, is applying for college, is played by Grace Fulton.
The youngest, Darla Dudley, is played by Faithe Herman. Darla's excited to have a new kid join their family—a little too excited for Billy, as evidenced by his reaction to her bear hugging him when he walks in the door.
Her fervor is offset by gamer Eugene Choi's lack of acknowledgement, followed by Pedro Peña's barely audible grunt as they pass on the stairs, played by Ian Chen and Jovan Armand, respectively.
The younger actors got along well and hung out off-screen, which paid off in an authentic family dynamic onscreen, complemented well by the foster parents Victor and Rosa Vasquez, portrayed warmly by Cooper Andrews and Marta Milans.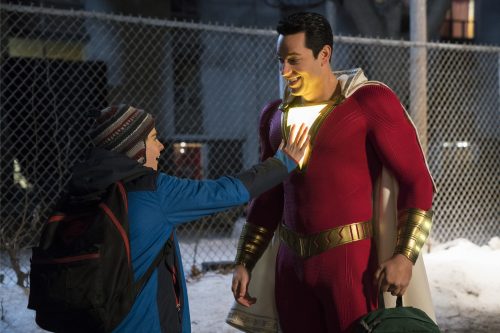 Director David F. Sandberg explains, "Victor and Rosa are former foster kids themselves, so they know what it's like and they want to create the best environment for these children. They will take on any kid, even someone no one else wants. So, they have a very different bunch with all kinds of personalities, all trying to get along under the same roof. And they do. It's a bit of a chaotic home, but it's a very loving home that Billy comes into."
"David and our cast and crew have threaded a beautiful, heartwarming story through the action and comedy," producer Peter Safran comments, "and I think the hardcore DC fans are going to get what they want, and moviegoers are going to get the big screen experience they go to the theater for."
Sandberg concludes, "We set out to tell Billy Batson's story—that family is not always about blood, but bond; that you can find a home even if it's not where you were looking for it. And because it's Shazam, we also get to experience what it would be like if every kid's wish to be a superhero came true in the biggest, most comical, exciting, action-filled and magical way."
In Philippine cinemas April 3, "Shazam!" is a New Line Cinema production, and distributed by Warner Bros., a WarnerMedia Company. Use the hashtag #SHAZAM