The number of Southeast Asian visitors to Taipei has been on the rise in the recent years. According to a statistics report by the Tourism Bureau under the Ministry of Transportation and Communications, the number of visitors from the Philippines in 2018 grew 44 percent from 2017, the highest growth among other Southeast Asian countries.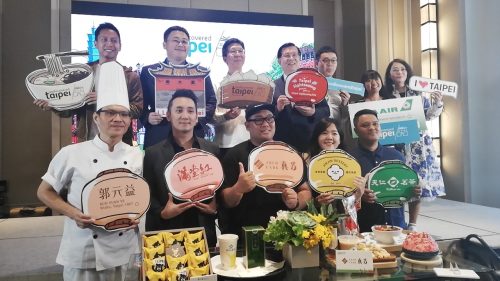 To keep the momentum of the success of the Filipino market, Taipei City's Department of Information and Tourism continues to promote the city as the best destination in the region.
Meanwhile, the city holds a product launch at the Makati Diamond Residences last June 14, 2019.
Yi-ting Liu, commissioner of Taipei City's Department of Information and Tourism, mentioned that they gathered an army of Taipei's popular businesses showcasing Taipei's authentic and classic dishes. These include Taipei's bestselling breakfast shop Zhenfang's Taiwanese-styled omelet and fresh milk tea combo, Taipei's spicy hotpot chain Mantanghung's Sichuan-styled beef dried noodle, Taipei's must-buy souvenir BRAVO!BEAR mango shortcake by Taiwan's leading pastry maker Kuo Yuan Ye, popular Jin Jin Dessert's honey citron aiyu jelly and unique sugar and grass jelly and milk, one of Filipino's favorite tea shops as well as Cha FOR TEA to go's signature 913 pearl milk tea and honey green tea. These offers are expected to bring Taiwanese flavors to the event-goers. Catering to the characteristics of the Philippine visitors, online travel experience provider Klook comes up with an exclusive Taipei experience set, including Taipei's double-decker sightseeing bus and the trendiest hotels as those are highly inquired by many a Filipino.
A new Taipei travel product promotion for FIT travelers has also been announced to the Manila-based media. The promotion is a joint initiative between Taiwan's top airliner Eva Air and online travel experience agency Klook. For group travelers, Eva Air has collaborated with certain travel agencies to launch a super package that starts at US$127 per person (about NT$4,000), available for sale in the Philippines as of today. Other giveaways in limited quantities include a co-branded handmade soap gift box between Dachuns Soap and Taipei City or a Taipei travel pass (an exclusive EasyCard or a 4-hour ticket on Taipei's double-decker sightseeing bus.) This promotion aims to offer Filipino visitors a super value experience from the moment they board the airplane until they finish the whole journey.
Commissioner Yi-ting Liu adds, "to further develop the Philippine market, the Department of Information and Tourism has organized a business matching session for travel agencies in the same afternoon after the press conference." Over 50 local travel agencies meet with Taipei's hospitality business operators. For the first time, travel industry insider Michael Wu shares his views on the global travel market trend and Taiwan as a MICE destination, in the hope to boost the market of the Filipino visitors and promote Taipei's potential as a MICE location.
Liu also talks about the consumer event held at the Glorietta 2 Activity Center last Saturday, June 15. Highlights of the mall event include food samplings, fun games, etc. Plus, the food stations featuring Taipei's gourmet dishes and an interactive studio to see Taipei's landmarks and scenic spots, giving visitors a sneak peek of what to expect in Taipei.
"We welcome all of you to see taste Taipei's food, take a picture and upload on the web with the hashtag #UndiscoveredTaipei," stresses Liu. "Don't miss out on the chance to join the lucky draw and now is the time to discover the parts of Taipei you haven't seen!"