The women of the Fast & Furious franchise have repeatedly proven themselves to be as accomplished, dedicated and resilient as their male counterparts.
That commitment to strong female characters would become a cornerstone for Universal Pictures' Fast & Furious: Hobbs & Shaw with the casting of Vanessa Kirby (Mission: Impossible – Fallout, Netflix's The Crown) as Hattie Shaw, a highly capable, badass MI6 agent who sets the plot of the film in motion and whose bravery and commitment to her duty is peerless.
Watch the film's new spot here.
When we first meet her, Hattie is leading a team sent to recover "The Unicorn," a mysterious vial that contains a lethal pathogen that, when weaponized, could wipe out half the global population. But Hattie and her team are ambushed by a cybernetically enhanced Brixton Lorr (Idris Elba). Now, sworn enemies Luke Hobbs (Dwayne Johnson) and Deckard Shaw (Jason Statham) will have to partner up to bring down the only guy who might be badder than themselves.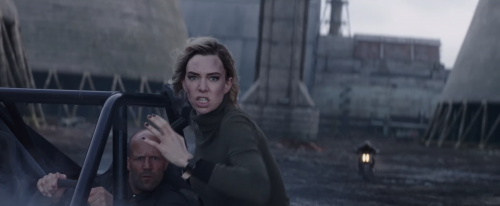 In Kirby, the filmmakers found an actress who could anchor the antics between Hobbs and Shaw, which run from hilarious to downright deadly and embody (literally) the very real stakes for herself and the planet. "Vanessa Kirby is an incredible actress," director David Leitch says. "I had no doubt that we could put her through the training and draw out the physicality of Hattie. What she brings in her acting is the ability to be strong but then vulnerable and stoic and then emotional, and it's all authentic. An actress of her caliber helps to ground our lighter moments and make the stakes feel real."
For Kirby, Leitch was a dream director, who advocated for Hattie to be as capable, if not more, than Hobbs or Shaw. "What I love about Dave's vision is that he has always been adamant that Hattie is as strong and tough as Hobbs and Shaw, and that she was as much of a fighter," Kirby says. "She doesn't need saving; she joins the guys as equals. I think it's important for young girls in the audience to see women can save the world, too. So, I felt that was my responsibility, to give Hattie that added toughness."
Hattie's heroism will also force a reunion, and ultimately a reconciliation, with her long-estranged brother, Deckard Shaw. Their relationship is complicated and strained, at best. Hattie had distanced herself from Shaw after he "went dark," when rumors surfaced that Shaw had become a mercenary. Now, their mother is in prison, and the siblings haven't spoken in years.
In Philippine cinemas July 31, Fast & Furious: Hobbs & Shaw is distributed by United International Pictures through Columbia Pictures.