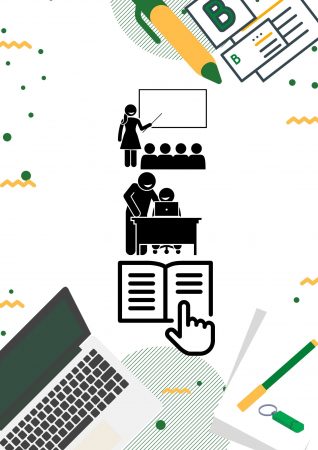 This year, academic life will be different from what students are used to. Face-to-face classroom settings will be temporarily replaced with distant communications which relies on the consistent use of technology. Shifting to online learning classes is not the only challenge these days, as the more important shift is to student-centered education. This means the teacher's role is also shifting from that of "sage on the stage" to "guides on the side".
For the First Semester SY 2020-2021, Far Eastern University (FEU) is offering flexible learning modalities that will allow students to experience the FEU education which is based on their learning capability and accessibility.
"Online learning has been an integral part of how we teach in FEU. We have been using the Canvas learning management system (LMS) since SY 2016-2017, and we will maximize this platform to ensure that THE interaction between student and faculty is carried out. Teachers will make sure that the objectives and target competencies of each course are achieved and mastered," explains FEU president Dr. Michael Alba.
The university acknowledges that all students, regardless of background, are capable of actively leading and contributing to relevant discussions. With this philosophy and careful consideration of the limitations brought by the pandemic, FEU developed three modes of learning: Mixed Online Learning (MOL), Asynchronous Online Learning (AOL), and Total Analogue Learning (TAL).
MOL or a blended learning option is highly recommended for all kinds of learners as it will provide the most amount of teacher guidance. The teacher will engage the class a minimum of 8 and a maximum of 24 times and will give students individualized feedback at least 4 times about their progress during the semester. Meetings may be conducted through online classes, small group discussions, or individual consultations which requires a good and stable internet connection.
For highly independent and responsible learners, they can choose between AOL or TAL.
AOL will require minimal use of the internet because there will be no regular meetings, instead, there will only be a minimum of 4 scheduled consultations throughout the entire term. Learning materials will be available through Canvas.
TAL still requires internet access for consultation and research. All learning materials will be compiled into a USB and delivered by courier to the student.
With the utilization of Canvas communication between teachers and students is made hassle-free. Students can send their teachers direct messages via the inbox function, while the comment function lets them ask questions on specific assignments. A video conferencing function is also available to enable real-time, online discussions.
To successfully navigate through the nuances of online learning, students may need to be more disciplined and independent. No matter what mode of learning they choose, they must take into account their scheduled assessments, conferences, collaborative projects, and use their time responsibly.
According to Dr. Alba, FEU will be nurturing but will demand hard work and rigor. "Members of the FEU community are sensitive to and supportive of each other but respect rules, guidelines, standards, and deadlines.  We believe that providing this balance to students who persevere will yield the best results."
FEU faculty were trained to have the new skills needed to effectively guide and motivate students to achieve the learning outcomes of their courses and assess students even in a remote online learning environment.
The teacher's goal now is to develop a sense of independence and responsibility within their students in order for them to take charge of their learning goals while addressing the possibility that students may feel isolated and disengaged from their schoolwork.
Assessment will be different also. High stakes cognitive exams like multiple-choice questions are out. Instead, frequent low stakes quizzes and authentic evaluations that use what the students learn in real-life situations like open book examinations, project-based learning, and reflection papers will be utilized.
While the current situation will temporarily keep students from enjoying a campus experience, FEU is confident it will still be able to provide quality education. Learning must continue and whether dependent on access to the internet or not.
"Our online learning is a product of many years of development, focusing on making learning outcome expectations similar to face to face classes. At FEU, the classroom (physical or virtual), is a safe and engaging space for the active learner," says Dr. Alba.