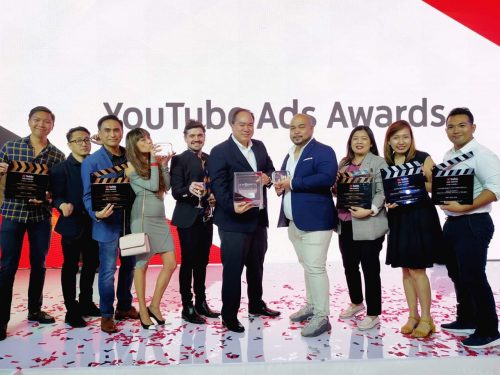 At the recently concluded YouTube Ads Awards, Max's Restaurant took home the prestigious Ad of the Year for its iconic 'Every Kind of Family, Every Day to the Max' film. This award marked a key milestone as the brand approaches its 74th birthday, proving that great storytelling and mindful purpose are ageless even in an evolved consumer environment.
In addition to Ad of the Year, Max's took home another seven honors, demonstrating the breadth of impact the Filipino culinary heritage brand has had on modern storytelling platforms.
The brand bagged two Crystals—the highest honor of the show—for its campaigns 'Every Kind of Family, Every Day to the Max', under the Food and Beverage category, and 'New Year is for Resolutions', under the Corporate Image and Public Sector category.
'Every Kind of Family, Everyday To The Max' also won two silver awards under Retail and Restaurants, and Corporate Image and Public Sector. Meanwhile 'New Year is for Resolutions' collected three bronze awards under the Retail and Restaurants, Storytelling for Occasions, and Food and Beverage categories.
The YouTube Ad Awards celebrate the top digital storytellers, based on brand relevance, unique-to-YouTube interactivity, and craft storytelling. Out of nearly 400 entries, only six earned the world-class Crystal Award this year, said to represent the finest that the country has to offer.
"We are proud to be recognized as one of the best digital storytellers in the Philippines. Being the top winner at YouTube Ads Awards is an incredible honor for us as we continue to explore fresh ideas and new technologies to tell our brand story that appeals to the ever-changing Filipino consumer," said Max's Restaurant Chief Operating Officer Paolo Serrano. "For almost 74 years, Max's Restaurant has established itself as both an institution in the local food scene and a culinary heritage brand that continues to embrace modern media platforms to stay relevant to its consumers."
"More than the craft, what we are proud to have surfaced is the duty and obligation of brands to surface and respond to topics that may be brewing in society," added Mark De Joya, Marketing Director for Max's Restaurant. "Meaning and mindfulness are at the heart of what we do, as a flagbearer not just of Filipino cuisine but also of Filipino culture," noted De Joya.
"These are best exemplified through the compelling and relatable storylines of its digital short films. 'Every Kind of Family, Every Day to the Max' tells a lighthearted yet memorable narrative of our intrinsic need to belong, while 'New Year is for Resolutions' communicates how people from all walks of life can come together in the spirit of family."
"Through our core cultural values of inclusivity and togetherness, we are able to drive social engagement and impact through our storytelling. At the end of the day, goodness wins, and we are proud to be honored for our ability to create meaningful content that carries the true Filipino spirit," added Serrano.