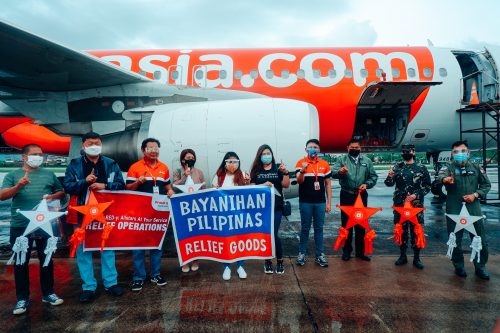 The Feast of Immaculate Conception signals the official start of the Christmas season in many Christian countries including the Philippines. And what better way to kick off this month-long celebration of gift giving than to bring in the needed help to our brothers and sisters in Catanduanes, among the hardest hit by Typhoon Rolly (Goni) and Ulysses.
Responding to #CatanduanesNeedsHelp, AirAsia volunteers together with our uniformed heroes from the Philippine Air Force mounted another mercy flight to deliver relief goods to affected families in the Province of Catanduanes.
The mercy flight took off at NAIA Terminal 3 at 6:30AM and landed at the Virac Airport at 7:30AM carrying 10 tons of noche buena items, ready-to-eat food packs, clothing, hygiene packs, water and other personal items.
The relief goods were immediately distributed to families in Barangay Sto.Domingo, San Isidro, and San Vicente in the town of Virac.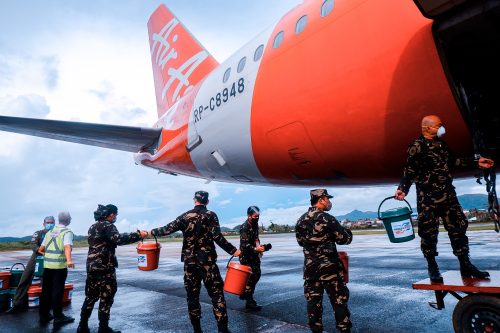 To make it even more special, the team also brought AirAsia "Stars of hope", traditional Christmas lanterns, locally known as "Parols". These special Stars of Hope were given to families and prominently displayed in their homes to remind them that despite the despairing situation we are all in because of the devastation brought by recent typhoons and the ongoing fight against the global pandemic, Christmas will always be a season of joy, aspiration and recovery.
In thanking AirAsia, Catanduanes Governor Joseph Cua who welcomed the mercy flight said the relief packages are a true life saver especially since residents who also lost their livelihoods have had to focus whatever they have in their pockets towards rebuilding their homes.
AirAsia CFO Ray Berja said, "We cannot just celebrate the season while they worry about rebuilding their homes, more than having fear of being infected by Covid-19. This season gives us the opportunity to pause and reflect on the most important things around us, which is people.
"We were faced with many difficulties in mounting this flight because Catanduanes is not yet part of our commercial route network. But the bayanihan spirit and the dire need to serve our kababayans kept us all together.
"At AirAsia, we embrace challenges. When we don't have ground equipment or air stairs, we build one. When we face logistical difficulties, we work together because as Allstars, we were built to make it happen. We are all praying with you as we hear more good news on vaccine approvals and distribution."
"Kayo po ang Star ng Pasko namin, that's why we are not just bringing relief goods but our strong message of hope, similar to that Star of Bethlehem, which according to the Biblical story, guided the three wise men, to the baby Jesus.
May this "Star of Hope" remind our Kababayans that they are never alone in this journey. We may have been battered by typhoons or still facing a future that seemed to be clouded by uncertainties due to the impacts brought by COVID19 but we will continue to pray, remain resilient and hopeful that this too shall pass. Through good and bad times, we are #AlwaysRED-y at your service."
To date, Catanduanes still remains under the State of Calamity after the devastation of Typhoon Quinta and Super Typhoon Rolly. The onslaught which consecutively happened only a week apart left some parts of the island still isolated and almost 10,000 families literally homeless.
"#AlwaysRED-y:Allstars At Your Service" is AirAsia Philippines' disaster quick relief response. It is AirAsia's response to the hardships people experience during natural disasters. It was successfully kicked off with a mercy flight and relief operation in the town of Solana, Cagayan Province over a week ago. Heeding to the call of volunteerism, AirAsia employees rapidly mobilized to gather funds, packed relief goods and organized relief operations for the disaster hit province.